Instrument Cluster Repair
Dead Pixel Repair Fast turn around!
CONTACT US FOR REPAIR 1-87-PIXELTEK OR 1-(877) 493-5835
Instrument Cluster Repair Shops
BMW Instrument Cluster Repair of dead pixel
The instrument cluster panel found on the E38 7 series, E39 5 series and on the E53 X5 have an issue with the LCD ribbon that create dead pixel, after years and warmed temperature the ribbon lost is bond with the PCB board.  We also repair dead pixel on the instrument cluster display panel.
Should I replace my instrument cluster?
Buying an used instrument cluster require some research for compatibility. Many customers come to us after purchasing a higher mileage instrument cluster against they're actual car. And as a result they end up with a car with a higher mileage on the odometer. It make the task difficult to convince a buyer that the car have a lower mileage that what it could be read on the odometer.
How to remove tamper warning
To remove the tamper dot you need to perform a complete dismantling of the instrument cluster to reveal the board. And some instrument cluster are hard to work with, so we recommend using professional help to work with eeprom, because is the one that control a lot of data about the car. But we repair/reprogrammed all kind of BMW/Mini instrument cluster display at PixelTek.
Why choosing pixeltek for your Audi instrument cluster repair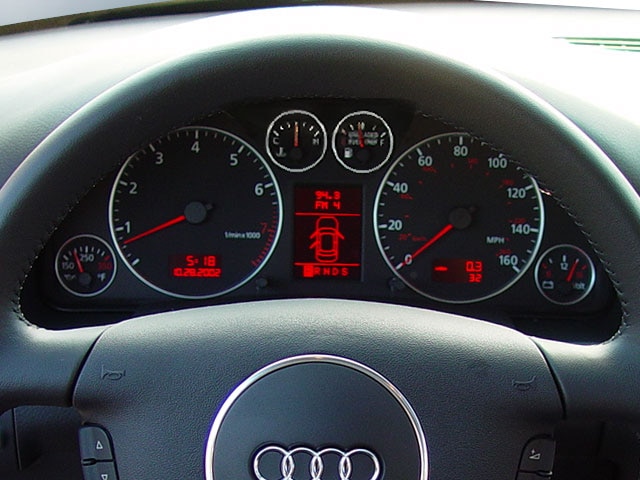 Audi A4/A3/A6 Display Pixel Repair Service
This is why the Audi instrument cluster display panel is one of the most common repair at our shop. It is a well know issue within the Audi community. a dead pixel or burnt pixels happen when all three sub pixels (red, green and blue) are permanently turned off in the LCD (they will show up as black on the instrument cluster display).  In many cases fixing the display involves the replacement of the faulty LCD.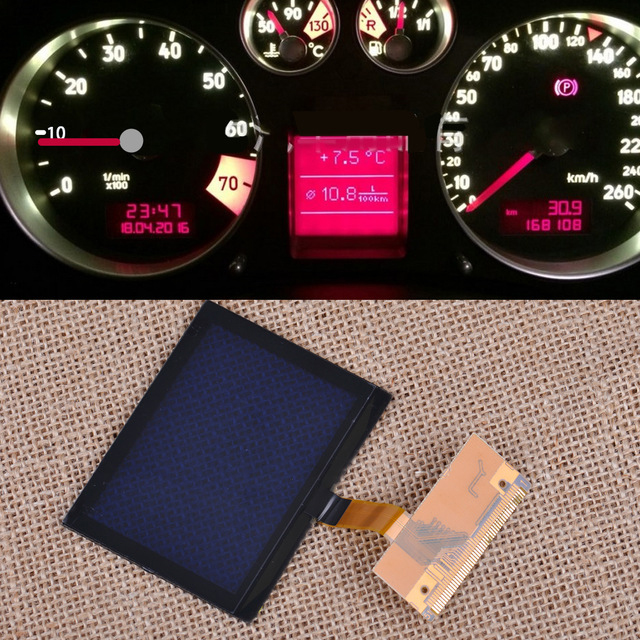 Audi TT gauge cluster repair
The first generation of Audi TT have a few problem with is dashboard cluster more specifically with is erratic jumps of gauges,  partial or whole back light flashing or the whole dash dead. Fixing requires the reprogramming of EEPROM of the board. Repair of the cluster display pixel is not uncommon on this car also.
Why instrument cluster LCD fail with dead pixel
The LCD display glass has a thin ribbon cable on its right hand side that powers the display, the bonding on this ribbon cable comes loose after time with the different weather and doesn't make a proper contact to transmit the signal. People who experience are expose to this problem will have pixels that are hard to see making it hard to read important information about the car status. They will also experience that the instrument cluster panel work fine in cold weather and the opposite in the warm weather.
We repair all brands of Instrument Cluster
GM Speedometer Repair Service
GM stepper motor and back light are a common issue in the instrument cluster of trucks and cars from 2001 to 2006 GM, Chevrolet, Pontiac, Buick, Cadillac, Oldsmobile, and Hummer. We provide a full repair service the GM instrument cluster with the newest generation of steppers motor (X27.168) that replace the faulty XC5.168 and X15.168 that are in your original instrument clusters.
Repair the non-repairable
As much as we keep our price lower to help our customer happy we highly recommend getting those stepper installed professionally. We repair instrument clusters at our shop everyday. It is very easy to rip a pad off of the board with the incorrect temperature on your soldering iron.
Mustang Instrument Cluster Repair
Mustang instrument cluster repair service for 4 or 6 gauge Mustang, for model years 2005, 2006, 2007, and 2008. The 05 – 08 Ford Mustang instrument clusters have common problems with the cluster not working, dim odometer display as well as problems with the fuel gauge, tachometer, voltmeter, oil pressure gauge, and coolant temperature gauges sticking, failing or giving incorrect readings.
If your speedometer is not working or the odometer display is dim, dark, dead or flickering then buying a new or used unit is not the best solution, because many of the replacement units often use the same faulty components as the original cluster
Others Instrument Cluster repair
We repair all kind of speedometer, odometer and gauge. Our instrument cluster repair shop we will gladly happy to assist you.
Most frequent questions and answers
The LCD displays of the vehicle fail sporadically.
analog indicator / pointer of the vehicle are incorrect, complete or intermittent failure
Several or all lights blink
Indicator lights glow or light up now and then
Total failure of the instrument cluster, sporadically or permanently
No communication with the instrument cluster
No warning when the tank is empty
turn indicator in the instrument cluster is defective, no function of warning light
malfunction of speedometer or tachometer
Speedometer needle is stuck
Odometer display jumps in large increments
Trip odometer does not continue
The instrument cluster lighting partly fails
Lighting fails completely, speedometer almost completely dark
Hazard warning lights light up sporadically
We normally have a 1 day workaround and item is ship same or the next business day
It probably is illegal to operate a car without a working speedometer, but not for the reason most people would think of first. The odometer usually runs off the same sensor/linkage as the speedometer, and federal law, I know forbids disconnecting or resetting the odometer in a vehicle
You can get it repair at PixelTek instrument cluster repair shop, we also sell parts for diyers.
We offer an industry-leading lifetime parts and labour guarantee on all of our PixelTek repairs.
Yes, the master technicians at PixelTek will assess and evaluate your used instrument cluster for cash on site. It's a convenient and safe way to make cash or credit for a repair or purchase.
Yes, we provide local repair in the great Montreal area but we also only at a post office away since we provide mail-in repair worldwide. The problem with dim dic or gear selector, or dead or fault gauge and more. It occurs on Silverado, Tahoe, Yukon, Suburban, Sierra, H2, SSR, Avalanche and Other 2003, 2004, 2005 and 2006 Chevrolet GM Vehicles.
Depending on the work need to be done you might need or not need to reprogrammed the instrument cluster, if you are repairing the same cluster you will not need to reprogrammed the cluster at our shop.
Some car have the mileage in the instrument cluster, also it might give you a tamper dot if its not code for the car (mismatch in the VIN), wrong fuel tank calculation to name a few problem that can be trigger by replacing the speedometer.
Replacing an instrument cluster is not illegal.
Not complying with the Disclosure requirements and/or tampering with an odometer or the odometer function is what is illegal.
All repairs offered by PixelTek are backed by our lifetime warranty against all parts and workmanship. If we weren't highly skilled, certified technicians using high quality parts we couldn't offer a lifetime guarantee on our repairs.
Are you someone that are picky around details? At PixelTek we share the same values, all employees who work on your device will do it as it was their own and will take any extra step to handle it with care not to mention that all cluster repair will be polish with the best products before being hand to our customers. Our processes is built around keeping Our customers satisfied.
Having dead pixel on instrument cluster is really bad looking device in a well maintain car has most of our customers are, we get it. No need to panic. We do repairs on site, ASAP, often the same day.
Although we are an independently owned repair shop, and not affiliated with anyone we still get our technicians the best training.
All parts LCD screen or LCD ribbon use to repair cluster are fully tested in our facility numerous times before being installed by a technician. We stand behind the parts we get, and that's why we offer a lifetime guarantee on it all.
We fix everything from Chevrolet, BMW, AUDI, Mercedes, VW and more. Our trained and certified techs are always taking apart and putting back together the latest technology. We can repair most popular models, no matter where your purchased your car.